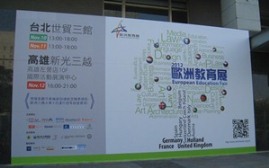 The entrance of the 2012 European Education Fair in Taiwan
In line with its "One China" policy, the EU recognises the Government of the People's Republic of China as the sole legal government of China, and therefore has no diplomatic or formal political relations with Taiwan. The EU does, however, support Taiwan's meaningful participation in international organisations where this does not require statehood.
Trade and other relations
The EU does recognise Taiwan as an economic and commercial entity: Taiwan is the EU's 4th largest trading partner in Asia and the EU is both Taiwan's 4th largest market and its largest source of foreign investment.
Exchanges also take place in sectors such as research and technology, information society, education and culture, fisheries, environment, climate change, intellectual property rights and standards and norms.
Bilateral consultations are held every year to ensure coordination and coherence of these activities and to discuss issues of concern for both sides.